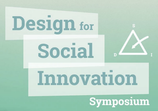 "On the 15th and 16th of July 2015 AUT University and Auckland Council hosted NZ's first Design for Social Innovation Symposium. This interactive and practitioner focused event recognised the important ways that design is being applied to social contexts and challenges in Aotearoa New Zealand, and helped to set the direction for the continued development of social and co-design capability in this country."
Geoff was invited to attend this event to present on the theme
What impact could we be having, and how might we know (now and in the future)? There were many memorable sessions and ad-hoc contributions from diverse individuals and groups, including Auckland Co-design Lab, Lifehack, Ko Awatea, Ngā Aho, ADHB Co-design team, Ministry of Social Development, Think Place, DNA, Innovate Change, Auckland Council, Akina and more. The full programme and links to presentations and bus stop resources can be found here. To view Geoff's presentation click on the button below.
A more compelling view of of the event has been captured on Storify:
Day 1 - Looking Across - Storify
Day 2 - Diving In - Storify
Our thanks go to
Penny Hagan
and
Lee Ryan
for their skilful organisation and to Elizabeth Goodwin from MSD for supporting Ripple's contribution.
Geoff's personal highlights included contributions from
Ingrid
Burkett from Australia incorporating design, innovation and social impact perspectives, Elizabeth Goodwin talking about public service, and
Chelsea Robinson's bus stop on Theory of Change (Geoff played a minor support role). There were many other high points and sessions that Geoff missed that he would have loved to have got to. We are hoping we get to work and share with these cool, smart and socially minded people into the future.